The flagship event served multiple functions:
⦁ in-person meeting of the NGIN Ambassadors
⦁ Provide Ambassadors with the opportunity to start co-creating NGIN
⦁ Deep dive into regenerative agriculture including field visits in tropical Costa Rica.
⦁ Link intensively with coalition partners and gaining insights into these organizations, what they do and how they do it: IICA hosted NGIN at the Head Quarters in Costa Rica and IFAMA invited NGIN to join their World Conference 2022 and hold a youth panel on the main stage.
⦁ The Program:
⦁ Day 1: NGIN youth panel at IFAMA conference, Team building workshop, a guided visit to Dos Pinos and a presidential diner at IFAMA.
⦁ Day 2: Day at IICA facilities, soft skill workshops and a WFF workshop on Global Policy Making.
⦁ Day 3: Day at CATIE facilities, farm visit, talks by local organisations and a night out in San José.
⦁ Day 4:  NGIN workshops, how are we going to continue and a wrap-up lunch.
The NGIN ambassadors made a start with:
⦁ The NGIN Ambassadors committed to the following:
⦁ Writing a manifesto to summarize the key issues they would like to address and drive with NGIN.
⦁ Form Ambassadors Committees to work together on NGIN activities.
⦁ Build a youth consultation mechanism (advisory council) that brings wider youth-raised needs or solutions to the attention of the Board.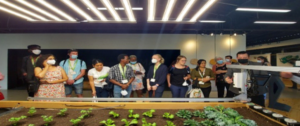 Invitations to speak – NGIN on panels and podiums
NGIN was invited to talk and share her vision or partner at several events:⦁ YAS21 (Launch)
⦁ E Tipu; the boma summit (Channel partner)
⦁ IFAMA World Conference (Partner)