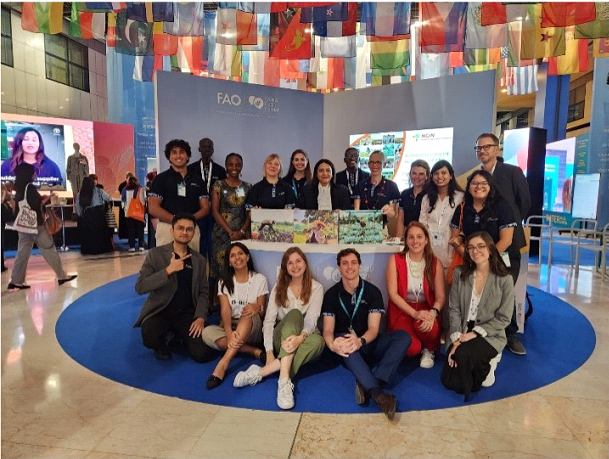 The recently concluded World Food Forum (WFF) 2023 brought about meaningful discussions around the theme "Agrifood systems transformation accelerates climate action." I joined the NGIN 2023 Ambassadors for the WFF in Rome. It was great to connect with the Ambassadors again, a group of incredible, absolutely brilliant and inspiring change-makers dedicated to revolutionizing agriculture. The forum brought together policymakers, public and private players, all geared toward revolutionizing our food systems, with a strong emphasis on empowering youth.
The forum centred on the importance of harnessing the power and passion of the youth in addressing the challenges within our food systems and combating climate change. Youth play a vital role in advancing food systems, yet there is still a perception that agriculture is a"dirty" and unrewarding profession, particularly among the young people. Yet agriculture remains the backbone of many economies, especially in Africa. When harnessed effectively, it can significantly alleviate youth unemployment, ruralto urban migration and food insecurity.
Nevertheless, with the continued call to make agriculture attractive to the youth and to get them more involved, the narrative is gradually changing. The WFF 2023 was a demonstration that young leaders are not only interested but actively engaged in offering innovative solutions and demanding a seat at the decision-making table. We must integrate their voices into policymaking processes and endorse their innovative ideas and focus on abundant opportunities in the agri-food sector, rather than dwelling solely on the challenges. The youth have understood the problem and they need their voices heard, they are calling for the implementation of sustainable policies that will empower and support young farmers. Additionally, the youth need to hold leaders accountable, going beyond saying they need to be involved but engage in how they can be involved.
It is also clear that private sector investment is a critical component for achieving the desired results, but it hinges on governments providing an enabling environment for agriculture to thrive. Effective collaboration between different partners is pivotal in the advancement of the transformation of agri-food systems. No single entity can achieve this transformation in isolation.
Currently, global agrifood systems account for one-third of human-caused greenhouse gas emissions and is the single greatest cause of terrestrial biodiversity loss. Although there are on-going efforts in transforming food systems, significant scaling up is required to accelerate climate action. Sustainably catalysing agrifood system transformation requires a holistic approach that necessitates active participation by the younger generation. This participation spreads across various touch points of the value chain including policy formation, information and research, innovation and entrepreneurship, digitization and mechanisation among many others. Neglecting to involve and empower our youth means we're falling short in our efforts to transform food systems